Written By: Jenny Agee-Aldridge for Houston Business Journal
It probably comes as no surprise that the Houston area dominated a list of mid-year home sales in master-planned communities across the country. However, a couple of well-known contenders fell, and others picked up speed with the extension of the Grand Parkway.
Riverstone, the Johnson Development Corp.'s community in Sugar Land, ranked the highest of all the Houston-area communities on the list at No. 4, up two slots from last year's annual rankings, reports RCLCO, a national real estate consulting company with offices in Austin and Washington, D.C., among other cities.
Riverstone has sold 384 homes so far this year, and it will release 900 more homesites this year. It had 756 home starts from the second quarter of 2013 to the first quarter of 2014, according to Houston-based MetroStudy.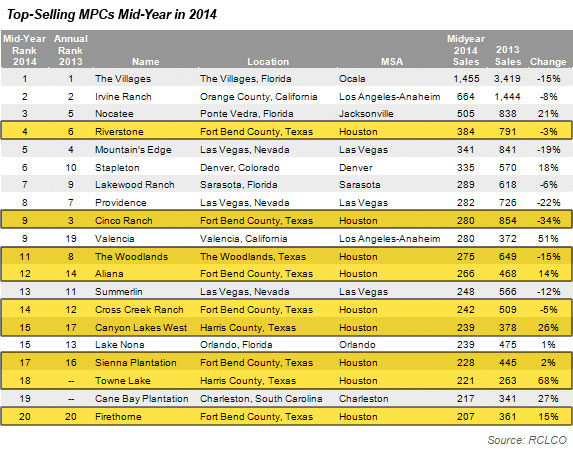 However, mature communities such as The Woodlands and Cinco Ranch have seen their sales pace slow as lot inventory begins to close out. The Woodlands ranked No. 11 on the list, falling three places from the previous year's annual home sales report. It has sold 275 homes this year. Cinco Ranch has sold 280 and slipped six spots to rank No. 9 on the list.
In contrast, Canyon Lakes West, located in Cypress, has seen a 26 percent increase in sales compared to last year, which can probably be attributed in large part to the construction of the Grand Parkway between Interstate 10 and Highway 290. It ranked No. 15 on the list, up two spots, with 239 homes sold so far this year. Towne Lake, also in Cypress, entered the list for the first time at No. 18 with 221 homes sold.
Bridgeland, another master-planned community in Cypress, was not on the list, but that will probably change next year. Construction was sidelined there for a while as developers waited for a permit from the Army Corps. of Engineers that would allow it to continue to build. It now has the green light to begin building out the last phase of the first section of the development, which will add more than 400 houses to the community, located between the Grand Parkway and Highway 290.
"Large communities approaching buildout have few large replacements, leading homebuilders to self-develop smaller communities to maintain inventory levels," the report said.
Other Houston communities on the list include: Aliana, No. 12, is in Richmond; Cross Creek Ranch, No. 14, is in Fulshear near Katy; Sienna Plantation, No. 17, is in Missouri City; and Firethorn, No. 20, is in Katy.