Written By: Todd LaRue, Managing Director, and Cameron Pawelek, Senior Associate
Homes at the nation's top-selling master-planned communities (MPCs) sold at a slightly quicker pace in 2015 than they did in 2014, as lot inventories increased and market sentiment improved in various metro areas. Every year since 1994, RCLCO has conducted a national survey identifying the top-selling MPCs. We recently surveyed master-planned communities throughout the country to establish the 20 top-selling communities for 2015. As a group, total sales were up from 2014 levels, with many developments—particularly those that improved community segmentation—achieving increased home sales. Though total sales are up for 2015 overall, the group experienced a slight slowdown during the second half of the year compared to 2014. For communities that showed a decrease in sales, most developers cited a reduction in lot inventories, decreasing affordability, and the adverse impact on Houston communities of the decline in oil prices. As affordability continues to persist as a significant threat to well-executed communities in desirable markets, master-planned communities need to consider offering some alternative and denser product in order to satisfy large underserved demand pools at lower price points and further improve market penetration. The chart below summarizes the top-selling communities of 2015 and the comparison with their rank and annual sales in 2014.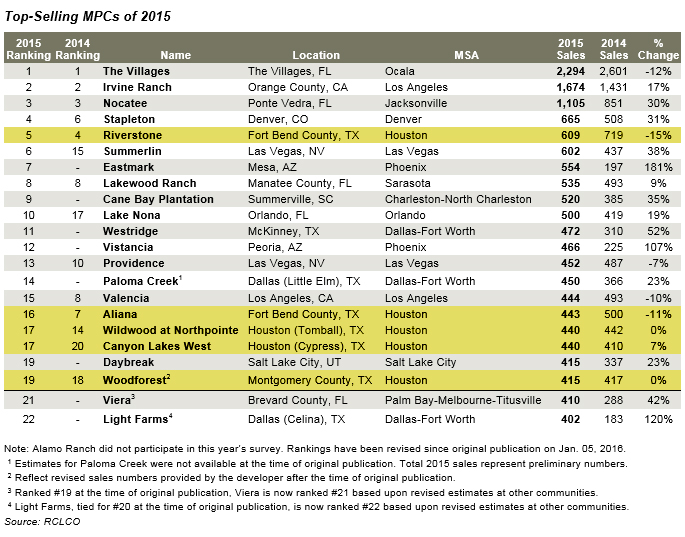 Texas
In Houston, there has been a cloud of uncertainty as businesses and economists assess the impact of sub-$40 oil on the local economy. Though final employment numbers for 2015 have yet to be released, most Houston communities, particularly those along the Energy Corridor, reported noticeable impacts from the decline in oil prices. Though Houston communities dominated the 2014 top-selling master-planned community list, with eight of the 20 top-selling communities, only five Houston MPCs made the list in 2015. Affordability, oil concerns, and the approaching build-out of The Woodlands and Cinco Ranch were the leading reported causes for this reduction. In addition, two communities that contain the largest supply of remaining land in the region, Bridgeland and Sienna Plantation, were ramping up new sections in 2015 and were not offering their full segmentation programs throughout the year. In general, move-up and luxury product segments experienced the most significant slowdowns in Houston communities due to the discretionary nature of these home purchases and a decline in corporate relocation purchases. Economic uncertainty and a decline in consumer confidence has kept some households in the rental market, postponing home ownership until the Houston economy stabilizes. Despite slowing new home activity at higher price points, strong segmentation and pent-up demand at price points below $350,000 have helped some Houston communities maintain significant penetration of the entry-level segment, with these purchases more dependent on life stage changes.