Written By: Todd LaRue, Managing Director, and Brian Martin, Vice President
The chart below summarizes our list of the 20 top-selling communities for 2016, including a comparison with their 2015 new home sales. Irvine Ranch was the top-selling MPC in the country in 2016 with 1,989 sales, taking the top spot from The Villages which has garnered the number one ranking for the past 14 years. The reduced sales volume at The Villages is consistent with the trend line they have experienced over the last several years as they approach build-out. Another consistent star performer, Nocatee, remains in third place, with 973 sales, which is approximately 12% below last year's performance, but is attributed primarily to lack of home and lot inventory rather than a reduction in demand.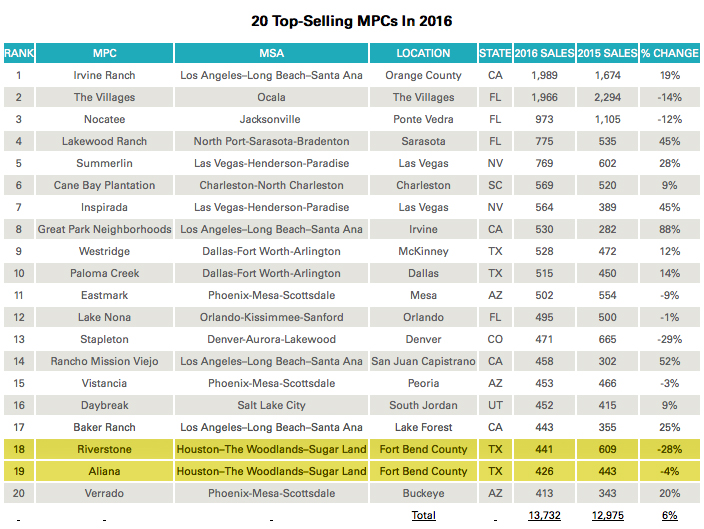 *Chart has been revised since original publishing on January 4th
**50 Top-Selling MPCs of 2016 highlighted at the end of this article
Overall, the 20 top-selling communities sold 6% more homes in 2016 than in 2015, with 13,732 sales this year compared to 12,975 last year. Lakewood Ranch, Inspirada, Rancho Mission Viejo, and Great Park Neighborhoods all experienced annual growth in sales by more than 40% over 2015.
Texas
Texas Although the oil and gas sector continues to contribute to uncertainty in the Houston market, pricing and sales volume remain fairly consistent in the top-selling MPCs over 2015, which may be a surprise to those outside of Houston. Although Houston's economy is still largely energy-dependent, the downstream oil and gas industry is helping to mitigate the large job losses incurred in the exploration and production, or upstream, side of the business. However, multi-billion dollar downstream projects are approaching completion as we head into 2017, which will likely result in further job losses in the construction industry. A bright spot in the Houston economy is the health services sector, which is growing rapidly as Houston's population continues to increase, though incomes associated with these jobs and other locally serving industries are significantly lower than the jobs lost in the energy industry. With that said, the energy industry is largely believed to be past the worst of this oil cycle, and strong population growth has supported impressive new home sales in Houston, with two Houston communities ranking in the top-20 (Riverstone and Aliana), and seven other communities in the top-50: Bridgeland, Cross Creek Ranch, Wildwood at Northpointe, Miramesa, Woodforest, Sienna Plantation, and Towne Lake.
Looking back, Houston was among the first cities to emerge from the economic downturn and occupied eight of the top-20 in 2012 and nine of the top-20 in 2013, but as other markets across the country recovered more recently (or delivered an abundance of new product in supply-constrained Southern California), MPCs elsewhere began eclipsing the performance of many of Houston's MPCs. Other than communities that are built out or approaching build-out, Houston's top-selling communities that were previously represented in the top-20 have maintained sales velocities slightly lower than 2016 despite the economic downturn. Riverstone is the only top-selling Houston community that has experienced a precipitous decline in sales, though this can be attributed to declining inventories at more affordable price points as the community focuses on higher price points in its last remaining development parcels. These top-selling communities in the region continue to be successful with either sophisticated segmentation strategies or an emphasis on more attainably priced products in this environment of more moderate job growth.
Interesting new products and services are emerging from the Houston market. Rise Development Company, developer of two newly launched MPCs (Cane Island and Meridiana), has created air-conditioned "street pantries" attached to each custom home in the estate neighborhoods. The air-conditioned street pantry is code operated, and allows temperature-sensitive packages, laundry, and food to be delivered and kept safe. The same developer has partnered with local farms to deliver fresh produce to the community, a service that is in line with the overarching theme of promoting a healthier living environment.